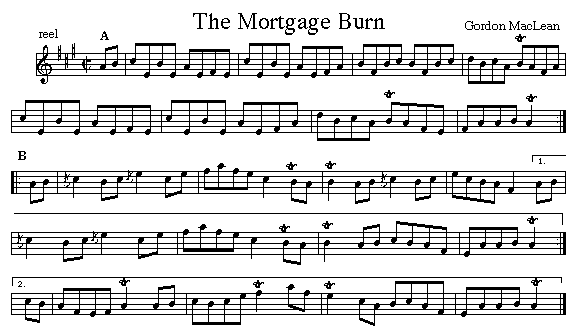 Only about seven years old, The Mortgage Burn is already traveling quickly. Recorded on The Lighthouse CD and on Brenda Stubbert's Some Tasty Tunes it is also in many repertoires including:The Bumblebees, Slainte Mhath, The Barra MacNeils, Sharron Shannon, Pat O'Gorman and others. In 2000 Jerry Holland recorded it on his solo CD Crystal Clear.

A harmony part by Otis Tomas is both on the Lighthouse recording and transcribed in The Lighthouse Collection.All of the tunes on The Lighthouse CD are posted as ABCs.


Pauls, Otis and Gordon on "The Lighthouse"
This arrangement has also been published in The Silver Apple News