LC-Bk-cd1996
The Lighthouse Collection book and Original CD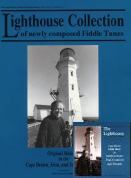 $24.95

New tunes for the Cape Breton, Irish and Scottish traditions mainly composed by Lighthouse keeper Paul Cranford, his mentors and his friends. First released in 1996, many tunes from this book have found worldwide acceptance by both session players and recording artists alike.
The new edition includes contains 294 distinct melodies with chords by pianist Mario Colosimo.
This bundle includes a CD titled The Lighthouse - a 68 minute, 18 medley album recorded in 1996.