One of Chris' greatest loves was for the fonn mall or slow air, an instrumental rendition of the air or tune of a song. He learned some from other players - The Lament for Staker Wallace he had from fiddler John Dwyer.
Most he learned from having the songs themselves in his head. Some he learned from the singing of Sorcha ní Ghuairim, who taught the Irish language classes he attended in Dublin. He recalled fondly how he would show up early for class and ask her to sing, and she would oblige without hesitation.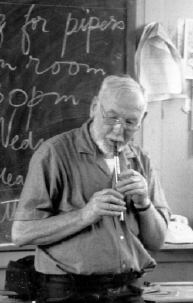 Chris Langan in a Miltown Classroom
photo by Peter Laban
Although primarily a book of dance music, Chris' book Move Your Fingers, does include a number of slow airs. He had learned many of these direct from the singing tradition.
To put the melodies in context, and to supplement the book, on this site we have to provided Irish and English verses to as many of these airs as possible.
Because the verses were not supplied by Chris there will be some inconsistencies found in the Irish spellings. Other more serious error are possible as well. Feel free to contact us if you can supply more verses, added history or would like to post a correction or addendum.