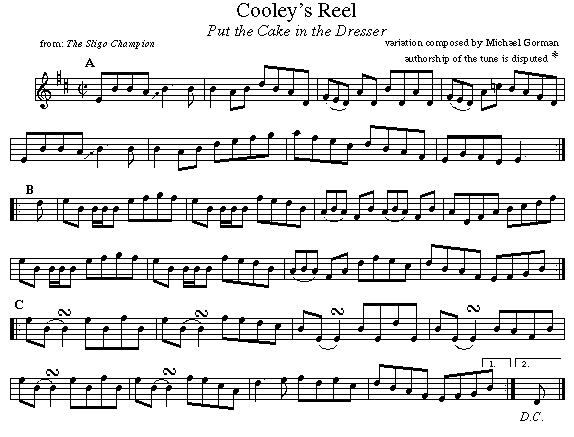 * Cooley's Reel, one of the most popular Irish reels of the 20th century, has no ironclad history. Usually played as a two part reel, the third turn surfaced recently on a 2 CD compilation of Sligo fiddler Michael Gorman (1895-1970) which was assembled by Reg Hall for Topic records.

In trying to search out the 'true' composer(s), I've read a few theories. The most likely comes from Allan Jardine, a folklorist who interviewed a number of Irish composer / musicians during the 1970s. In his interview with Galway accordionist Joe Mills:

"There has always been some contoversy over the authorship of the tune. According to Joe Mills, who does claim to be the composer, the story goes that Joe Cooley was a young lad of 18 or so when he first heard Joe Mills playing the tune, (1938). They were both members of the Aughrim Slopes Band and Cooley was reported to be mad for the tune. "He quickly learned it, and played it sometimes 2 and 3 times per night."

Joe Mills feels that this is why so many people came to associate the tunes with Cooley, as does even his own brother, Seamus.

Mill's title Luttrell's Pass refers to the Battle of Aughrim, fought in Joe Mills' neck of the woods in the early part of the 17th century. Other titles include Joe Cooley's Fancy (Tony McMahon recording), and the Tulla Reel, (Ceol Rince na hEireann, Vol. 1, #200.)

Below are a few of the other possibilities:
Dan Collins, a student of John McGrath, says that Sonny Brogan told him that Joe Cooley and himself wrote Cooley's Reel together. This seems unlikely since Brogan was interviewed by Jardine and no mention was made of this co-authorship.
Another claim that Joe Cooley was a co-author comes from his brother, Seamus. Charlie Piggott and Fintan Vallely's book includes an account in which Seamus says that he and Joe heard some old concertina play a tune that they couldn't remember all of, and that they reconstructed it themselves.
Reg Hall, the author of the booklet included with the 2 CD set Michael Gorman:The Sligo Champion, states that the original name of the tune is Put the Cake in the Dresser and that Gorman composed it. No one can dispute that the variations are his.
Don Meade of NYC, who directed me to much of the above information, also adds

"Jimmy Keane of Chicago tells me, he has an old manuscript from Co. Kerry with a tune called Leahy's that is the original Cooley's Reel ".

Mayo accordionist Vincent McGrath claims that his uncle John McGrath, composed it. McGrath died in 1955. There are a number of his students still living and none that I've talked to verify Vincent's claims. Only one tune their teacher wrote, an untitled D reel known as John McGrath's Composition is most certainly his.
We await confirmation...
---
Other Examples of Music Notation

Cranford Pub Search Engine
last update 12/1/2001