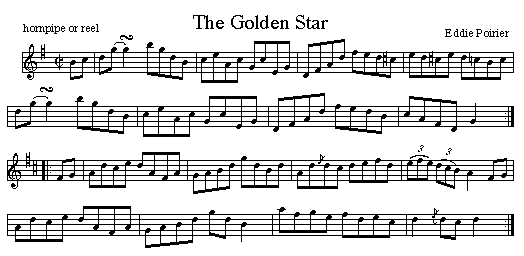 \
New Brunswick musician Eddie Poirier received The Stomping Tom Connors Award at 2000 East Coast Music Awards awards in Sydney. Eddie is completely at ease playing many styles and instruments including Irish, Don Messer and Bluegrass on fiddle, guitar, mandolin and banjo.

The above tunes were composed as a medley, the first in a moderatly paced Irish hornpipe style and and for the 2nd Eddie picks up the tempo. The Golden Star was previously published in The Victoria Standard.

---

Since this article Jerry Holland recorded The First Day of Spring with and Cooley's, an Irish hornpipe by Paddy O'Brien.
---
Other Examples of Music Notation

last update 7/2/00